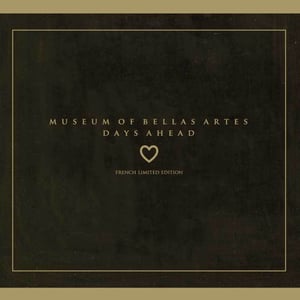 €

7.00
OUT NOW
French limited edition (300ex)
--
Il y a déjà quelque temps que les Suédois de Museum Of Bellas Artes ont sorti leur premier single « Who Do You Love ». Le titre avait été particulièrement bien accueilli, de telle sorte que beaucoup cherchaient alors à en savoir plus sur le groupe. Il est vrai que nous n'avions donné que peu d'informations. La sortie de leur premier EP nous donne l'occasion de combler ce manque.
Pari gagnant. A l'écoute du EP « Days Ahead », on comprend vite que « Who Do You Love » était loin d'être un simple coup de chance, mais bien le fruit d'un travail minutieux et du souci bien suédois d'écrire des chansons pop parfaites.
25 Years & Running et Asphalt Duchess sont ainsi fiers de vous annoncer la sortie française du EP « Days Ahead » qui contient sept somptueux titres, dont le single « Watch the Glow ».
--
01. Painted Wall
02. Watch The Glow
03. Days Ahead
04. Paloma
+ bonus unreleased tracks
05. Who Do You Love
06. Days Ahead (Bandjo remix)
07. Days Ahead (Museum Of Bellas Artes remix)